This article contains affiliate link. When you click on the link to purchase, will incur a little commission without paying additional fees.
Slider Revolution not only make WordPress blogs or eCommerce websites look great, but they also make the site more interactive. Although sliders are useful and several plugins are available for free, the completely free plugins (without ads or option to buy the plugin's premium version) don't support in-depth customizations.
In my perspective, Slider Revolution is the best WordPress slideshow builder plugin. It has 7+ million users and a rating of 4.75 out of 5. The plugin was launched in 2012 and has received several updates since then.
Editor
The backbone of the SR plugin is the editor. When you open the plugin's page, you'll see the following two options:
New blank module.
New module from the template.
If you want to design a module from scratch, click the 1st button. To edit a template, click the 2nd button. When you do so, SR will open a canvas and will display several customization options. The most important options are:
Slides: You can add as many slides as you want in a slideshow. SR enables you to add pictures, thumbnails, etc to the slides. Users can specify the animation for a slide or name it. Each slide in SR can have its own animation/special effects. SR lets you change the position of the slides in the slideshow. You can also preview the slide.
Layers: Layers reside at the top of the slide. They can have HTML elements, CTAs, text, videos, etc. You can customize every item that you add to the layer.
Slider Revolution lets you link slides with URLs or next/previous slides. You can configure the plugin to open the URL in a new tab or current tab when the user clicks the links. Users are allowed to add custom data attributes to the slides. They can also associate a slide with an ID.
Effects, addons, and animations
Slider Revolution supports various types of cool animations. You can add multiple animations to a single layer. You can configure the plugin to display animation for a specific duration, select the easing in/out effect, etc. Addons help you to make the slideshow more interactive and beautiful. Slider Revolution supports 20 add-ons. Some of the addons supported by the plugin are as follows:
Before and after: This is a great add-on that you can use to display how a thing looks before and after using a product.
Particle: This addon lets you display particles falling from the top to the bottom of the image.
Paintbrush: You can use this addon to reveal the true colors of a photo when you draw over the image with the mouse. Paintbrush turns the picture grayscale. When you right-click the mouse and draw on the picture, the plugin will show/unhide the colors of the image.
Object library and templates
A slideshow without an attractive icon or image is incomplete. Finding royalty-free stuff is difficult. Slider Revolution gives its users access to Object Library, the place where you'll find 1000s of usable items. While designing a slideshow, you can use one or several objects for free. The Object Library comprises PNGs, icons, background images, layer groups, and more. According to the developers, the Slider Revolution plugin provides over 200 ready to use templates. Once you find a template, you can edit/customize it as per your requirements.
Requirements
Slider Revolution works great when the PHP memory limit is 256 megabytes, the max file size variable is set to 256 megabytes and the max post size is 25 megabytes. Other than these three variable adjustments, there's no special requirement for the plugin. To change these settings, you'll have to edit the PHP.ini configuration file.
Documentation
Although SR provides a GUI to configure animations, to work with animation, you should know what the option does. Slider Revolution documentation has details of the settings, animations, and its various features. Thus, if you can't understand what an option does, you should go through the documentation.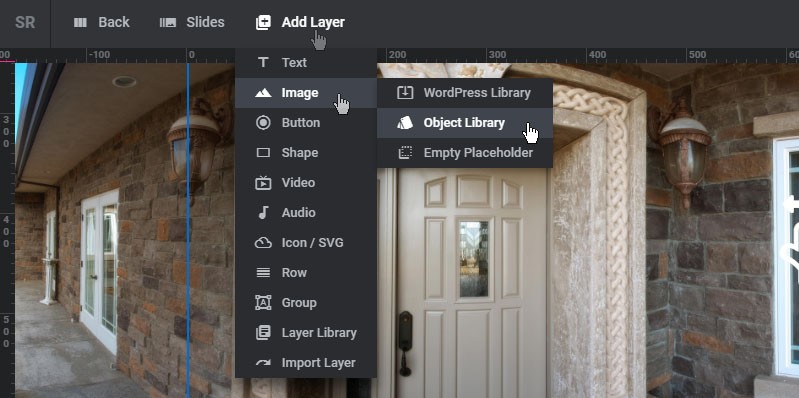 Support and pricing
The Slider Revolution developers/support staff provide ticket-based customer support. When you raise a ticket, the developers/support staff will reply to your ticket within 12 hours. The support is free for six months. Then, you must renew it. Slider Revolution is one of the cheapest WordPress plugins.
In addition, Slider Revolution's brother plugin Essential Grid can also help you create a perfect website. Click here to learn about Essential Grid.
Other supported platforms
Slider Revolution is available for the following frameworks:
WordPress, PrestaShop.
OpenCart, Magento, and Joomla.
In addition to the above frameworks, SR is also available as a JQuery plugin.
Final thoughts
Slider Revolution is a feature-packed WordPress slider plugin. It is cheap and helps users in creating beautiful mobile-friendly sliders without writing a single line of code.
If you find it troublesome to use slider revolution, you can try web.com's diy website builder. Click here.
This banner contains web..com affiliate links and I will get a commission when your purchase is completed.